Ina Garten has perfected barbeque chicken in this recipe. Her sauce is the perfect balance of sweet and savory, and can be used for any kind of meat, such as ribs or pork. The sauce can be used the same day, or it can keep in the fridge for 1-2 weeks.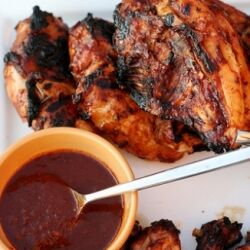 Ingredients
[
]
Chicken:
2 chickens (2 1/2 to 3 pounds each), quartered, with backs removed
Barbecue Sauce:

1 1/2 cups chopped yellow onion (1 large onion)
1 tablespoon minced garlic (3 cloves)
1/2 cup vegetable oil 1 cup tomato paste (10 ounces)
1 cup cider vinegar
1 cup honey
1/2 cup Worcestershire sauce
1 cup Dijon mustard
1/2 cup soy sauce
1 cup hoisin sauce
2 tablespoons chili powder
1 tablespoon ground cumin
1/2 tablespoon crushed red pepper flakes

[]
Directions
[
]
In a large saucepan on low heat, saute the onions and garlic with the vegetable oil for 10 to 15 minutes, until the onions are translucent but not browned. Add the tomato paste, vinegar, honey, Worcestershire sauce, mustard, soy sauce, hoisin sauce, chili powder, cumin, and red pepper flakes. Simmer uncovered on low heat for 30 minutes. Use immediately or store in the refrigerator.
Marinate the chickens in 2/3 of the barbecue sauce for a few hours or overnight in the refrigerator.
Heat the coals in a charcoal grill. Spread the bottom of the grill with a single layer of hot coals and then add a few more coals 5 minutes before cooking, which will keep the fire going longer. Place the chicken quarters on the grill, skin side down, and cook for about 45 minutes, turning once or twice to cook evenly on both sides. Brush with the marinade as needed. The chicken quarters are done when you insert a knife between a leg and thigh and the juices run clear. Discard any unused marinade.
Serve with extra barbecue sauce on the side.