Texas pulled pork barbeque sauce is a creamy combination of ketchup, molasses, and mustard. I really like this recipe from the "Homesick Texan" blog because it has a very unique flavor from coffee and a spicy kick from chipotles.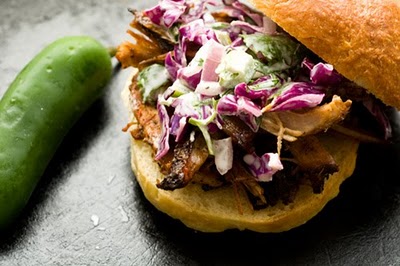 Texas Pulled Pork
Ingredients:
1 4-pound bone-in pork shoulder Coffee-chipotle rub (recipe follows)
Chipotle barbecue sauce (recipe follows)
Method: Coat the pork shoulder on all sides with the coffee-chipotle rub. Wrap pork in plastic, place on sheet or large plate and refrigerate for 8 hours.
Take the pork out of the refrigerator and let it come to room temperature, about half an hour. Preheat the oven to 250 degrees.
Place pork in a lightly oiled (either a few squirts of spray oil or about 1 teaspoon of canola oil) roasting pan or dutch oven and cook uncovered, fat side up 8 hours or about two hours a pound.
Remove meat from oven and let sit for an hour. Do not be alarmed by how black it is--it's not burnt that's bark that's been formed by the coffee rub. Pull meat into strands and toss with as much or as little sauce as you prefer. (I like to do it with 1 cup and then serve the extra on the side.) And be sure and chop some of the bark and mix it with the tender interior meat.
Serves 6-8.
Coffee-chipotle rub Ingredients:

1/2 cup brown sugar
1/4 cup black pepper
1/4 cup of finely ground dark coffee
1/4 cup paprika (smoked is preferred but regular is fine)
2 tablespoons salt
1 tablespoon chipotle powder
2 teaspoons granulated garlic
2 teaspoons of cinnamon
2 teaspoons cumin
2 teaspoons allspice
Method: Combine all the rub ingredients together until well blended with no lumps. For this pulled pork recipe, you might not need all of the rub but you can save it and use it on something else.
Chipotle barbecue sauce Ingredients:

1 teaspoon canola oil
1/2 half a medium onion
chopped 4 cloves of garlic
minced 2 cups ketchup
1/4 cup yellow, ball-park style mustard
1/4 cup molasses 1/2 cup cilantro
chopped 1/4 cup brewed coffee
2 canned chipotles
chopped 2 teaspoons Worcestershire sauce
1/4 cup lime juice
Salt and black pepper to taste
Method: Heat the oil in a saucepot on medium and cook the onions for 10 minutes or until translucent. Add the garlic and cook for another minute. Add the rest of the ingredients, turn down the heat to low and cook for half an hour, stirring occasionally. Transfer the sauce and puree until smooth.
Makes about 2 cups. Should keep for at least a week in your refrigerator.
Community content is available under
CC-BY-SA
unless otherwise noted.