There are so many different types of barbeque beyond the usual ribs and BBQ chicken . There is a whole different world of Asian barbeque: Korean BBQ, Vietnamese BBQ, South East Asian BBQ, Malaysian BBQ, and so on...
Here is a great Asian barbeque recipe, with hoisin as the dominant ingredient. This is a lighter barbeque sauce that is tangy from the red wine vinegar. Test it out and let us know what you think in the "Feedback" section below!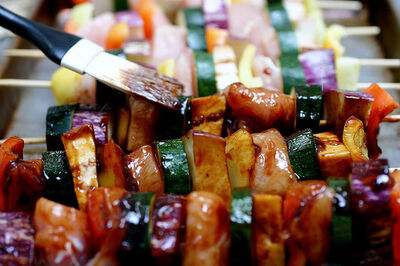 Hoisin Barbecue Sauce
2 teaspoons vegetable oil
2 garlic cloves, minced
1/2 cup hoisin sauce
1 tablespoon light soy sauce
3 tablespoons sake or dry sherry
1 tablespoon ketchup
1 tablespoon rice vinegar
1/2 teaspoon Asian sesame oil (I used the hot stuff)
Heat the vegetable oil in a small saucepan and cook the garlic over moderately low heat until fragrant, about two minutes. Add the hoisin sauce, soy sauce, sake, ketchup and rice vinegar and simmer over moderately low heat, stirring, until thickened, about three minutes. Remove from the heat and stir in the sesame oil. Let cool and serve.
Do ahead: The hoisin barbecue sauce can be refrigerated for 2 days, frozen for a month.

Source: Smittenkitchen.com
FEEDBACK:
All user comments appreciated! You can respond and add suggestions below.